Military discount can save you up to $40 a month on Verizon unlimited data plans
2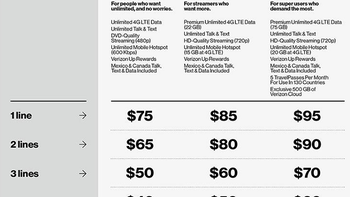 Back in April,
T-Mobile introduced T-Mobile One Military phone plans
. These plans offered discounts of 20% to 50% monthly off of the usual T-Mobile One price based on the number of lines activated. Today, Verizon introduced its new military discount that takes the price of Go Unlimited plan to $30 a month per line for four lines. That is a 33% savings on the usual $160 cost. To participate, active-duty military, reservists, Gold Star families and veterans with an ID can select from Verizon's Go Unlimited plan, Beyond Unlimited plan and Above Unlimited plan.
The military discount amounts to $15/month for one line, $35/month for two lines, $40/month off three or more lines. In addition, for a limited time, military families will receive a $200 prepaid Mastercard when activating a new 4G LTE handset on a new line. So a military family of four not only saves up to $40 per month, they could get $800 back. Check the regular everyday pricing of Verizon's unlimited plans by viewing the image at the top of this article. Verizon allows subscribers in the same family to mix and match their plans.
To receive the military discount, you can log-in to your Verizon account and select the unlimited plans you want. There are some requirements. Auto Pay and paperless billing are required. And during times when the network is congested, data speeds can be throttled (after 22GB and 75GB of data is consumed in a month on Beyond Unlimited and Above Unlimited, respectively).