Verizon offering Motorola Moto X through Moto Maker for $49 on contract through November 18th
16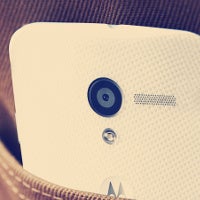 Just this past Monday,
AT&T lost its exclusivity on the customized version of the Motorola Moto X
made using the Moto Maker web site. Already, Verizon is causing quite a commotion by
cutting the price
by $50 to $49 with a signed two year contract. This comes only a few days after Verizon cut the price of the
Motorola Moto X
to $99 from $199.
Despite high hopes for a domestically manufactured handset that could be customized, a report on Monday said that sales of the Moto X have been very disappointing. One estimate called for
500,000 units to have been sold in the third quarter
. Of course, during those three months, only AT&T was selling the customized version of the phone while other carriers were offering a standardized model. The first quarter of 2014 might bring a more legitimate look at what the true demand for the phone is. That will be the first full quarter with the Moto Maker site available for all four major U.S. carriers.
Don't worry about punching in a coupon code. The price will read $49 automatically for Big Red customers once you get to the checkout phase. Sounds like a good time to purchase that phone you've been thinking about buying your significant other for the holidays. The deal starts on Thursday and runs through November 18th.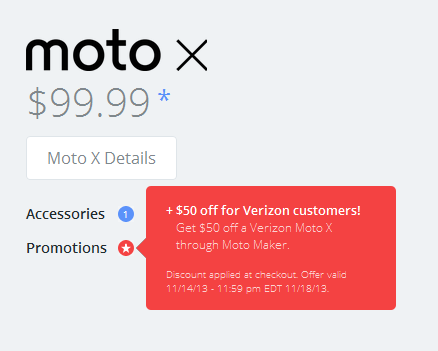 source:
MotoMaker
via
AndroidCentral