Verizon customers who use Android Pay three times will get 2GB of data for free
10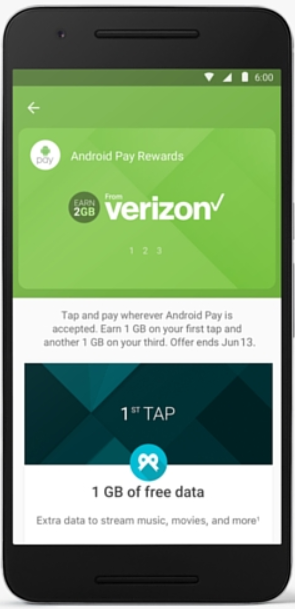 Use Android Pay three times and earn 2GB of free data from Verizon
Free data. Let's repeat that. Free data. Sounds nice, doesn't it. It even feels nice to say. Free data. How would you like to receive some? If you are a Verizon subscriber, you can take advantage of a promotion that the carrier is offering along with mobile payment service Android Pay. Here's how it works. Open the Android Pay app on your Android phone and use it at one of the 1.5 million locations in the U.S. where it is accepted. That is good for a free GB of Verizon data.
Use Android Pay twice more, and after the third use you receive a second GB of free data. So to recap, use Android Pay three times, get 2GB of free data (ahhh!) from Verizon. To use the mobile payment service you need to have an Android handset that is powered by KitKat (Android 4.4 or higher) and comes with NFC support.
Some of the more famous retailers that accept Android Pay in the states include Macy's, Peet's Coffee, Subway, Trader Joe's, Walgreens, and Whole Foods. If your phone supports Android Pay, and you're a Verizon customer, it wouldn't hurt to use Android Pay the three times required to score 2GB of free data. That will be enough for you to stream 17-hours of non-HD video, read 2000 websites or post 5200 videos. And all you have to do is use Android Pay three times.
source:
Verizon
via
AndroidandMe