Verizon accounted for 28% of Motorola's sales before the launch of Big Red's Apple iPhone 4
23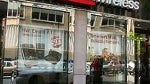 According to an article published by Bloomberg, 28% of Motorola Mobility's sales in 2010 were to Verizon. That number has been increasing each year, starting with 13% in 2008 and rising to 17% in 2009 before hitting last year's figure.
The reason for bringing up this statistic is to show the possible risk to Android manufacturers from the Verizon branded Apple iPhone 4. And Motorola was the company that produced the original DROID which ushered in the era of Androidmania with television commercials highlighting the things that the iPhone could not do, but that "DROID Does".
And to highlight how much Verizon revenue means to Motorola Mobility, in a regulatory filing the company wrote that a loss of revenue from the carrier, "could have a negative impact on our business." And that brings us back to sales of Verizon's version of Apple's touchscreen device. A report from Piper Jaffray analyst Gene Munster estimating that 20% of world wide Android sales come from Big Red would seem to confirm that the decision by Apple to bring the iPhone to Verizon was done to put a dent into Android's rapid growth.
We have
reported
that iPhone sales at Verizon have been below expectations although the same story noted that 30% of the carrier's iPhone buyers were Android users. Bloomberg's story contained the opposite reaction from Verizon and said that the mobile operator was happy with the initial wave of Apple iPhone sales. We will have to wait for more precise numbers to be released to determine what has been happening with Android sales at Verizon since the launch of the iPhone.
source:
AppleInsider