Verizon's Apple iPhone sales disappoint, but still outnumber AT&T's sales at 5 Apple Stores
29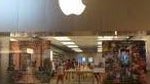 Despite all those years of waiting and hoping, and all of the hoopla involved, Verizon's sales of the Apple iPhone since launch have been under expectations. Verizon did manage to outsell the AT&T version of the handset at five different Apple stores during the first five days of release.
According to leaked sales data, five Apple stores (including two that were described as being very prominent locations) reported that on last Thursday's launch day, they combined to sell 909 Verizon iPhones with 539 AT&T iPhones sold. On Friday, the figures tallied 916 iPhone purchases for Verizon while 680 of the AT&T model were purchased. Sales dropped off on Saturday to 660 and 471 for Verizon and AT&T respectively, before rebounding to 796 Verizon units purchased and 701 AT&T units bought on Sunday. Monday had similar numbers with the Verizon iPhone selling 711 copies and AT&T ringing up 618. The data also showed that 550,000 Apple iPhone 4 units were pre-ordered by Verizon customers.
Some interesting statistics have come out of breaking down the sales. 30% of those who bought the Verizon version of the Apple iPhone were Android users while 25% were BlackBerry users. As for those who feared that a Verizon iPhone would mean the end of AT&T, fear not. Just 14% of those who answered the survey said that they switched to a Verizon iPhone from AT&T.
source:
BGR