Here's how the US carrier networks perform among the crowds of Coachella or Times Square
2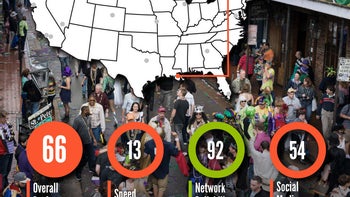 There are
5G network speeds
under the few lampposts in Chicago where they are available and with you as the sole network user, and then there are Verizon, T-Mobile, AT&T or Sprint network performances at crowded places like Times Square.
The research firm Global Wireless Solutions (GWS) got up and
tested
exactly that, measuring the mobile network performance of the big US carriers at various signature events, and graded them as follows:
Coachella Valley Music & Arts Festival: 38 out of 100 (grade: F)
Boston Marathon: 76 (C)
MLB Opening Day at Yankees Stadium: 70 (C-) & Nationals Park: 87 (B+)
Mardi Gras New Orleans: 66 (D)
Times Square New Year's Eve: 77 (C+)
The tests were done on a professional SwissQual QualiPoc equipment with retail
Samsung Galaxy S9
phones as performance collection devices. As you can see, the more people at a given place, and the more out there in the boondocks, the worse the signal gets.
Coachella is the fifth largest music festival in the world, gathering an estimated 750,000 music fans for a few short days in Indio, California, and it's little wonder that it scored the worst. The second from last place for a big city like New Orleans is somewhat surprising, but let's not forget that frolicking both online and offline is a big part of Mardi Gras, while carriers like Verizon and T-Mobile often bring extra equipment to big sporting events which could explain the numbers around Yankee Stadium.
Since GWS tests how the aggregate coverage of Verizon, T-Mobile, AT&T and Sprint is handling the surge in traffic during big and crowded events, here are the key findings from the worst-case scenario, namely Coachella:
93 percent of voice calls were completed successfully
Data-related tasks, like web browsing and uploading posts to social media, saw success rates of 88 percent (to put this into perspective, GWS testing specialists normally see
reliability rates at large events above 95% for both voice and data related activities)
Video uploads took a grueling 48 seconds (over 4 times slower than what revelers experienced in Times Square on New Year's Eve).
Photos and selfie uploads took an equally painful 23 seconds (not much fun if you're trying to watch your favorite band on Coachella's main stage and make sure your Instagram uploaded).