Verizon LG G3 Android 5.0 Lollipop update rolling out now
17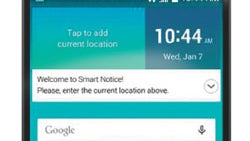 The Verizon Wireless version of the LG G3 has finally jumped on the Android 5.0 Lollipop update train, as the long-awaited software refresh is starting to hit the phone.
The new features that arrive on the G3 with Lollipop include the new Material Design of apps, card notifications and multitasking.
The look of the navigation keys has also changed to the triangle-square-circle style, and you have features such as smart lock that allows you to unlock your phone without any passwords when you have your smartwatch on you and nearby. There's also the new LG Health, which acts as a hub for all your health and fitness data, including the amount of steps you've taken and calories you've burned.
"Verizon Wireless is pleased to announce an operating system update to Android 5.0 Lollipop. This version brings Android beyond smartphones and tablets, allowing access to apps and Android services on other connected screens like TV's, cars and wearables.The new material design offers complex animations and 3-D views, 64-bit ABI support and improved runtime," the official announcement reads.
The update should arrive over-the-air automatically, but the most impatient could go into settings and manually double-check.
source:
Verizon Wireless