Verizon, AT&T, T-Mobile, and Sprint will all launch the LG G5 in the US
12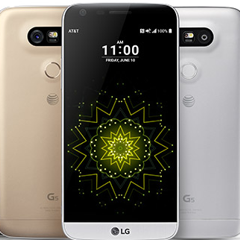 LG today announced the G5
, its latest flagship smartphone, which represents a new direction for the company, as it comes with a modular, metallic design. LG said that the new device would be available around the world starting April, but didn't provide specific details. In case you're wondering where in the US you'll be able to buy the LG G5, we have the answer: Verizon, AT&T, and Sprint all confirmed that they'd carry the smartphone.
Verizon will start selling the
LG G5
sometime "this spring", for an unknown price. AT&T and Sprint said that they would reveal the launch date and price of the new device in the coming weeks (we're expecting both carriers to release it at about the same time as Verizon anyway). It looks like AT&T and Sprint will have all four color variants of the G5 - Silver, Gold, Titan, and Pink - while Verizon is going to offer only the Titan and Silver ones.
Update
: T-Mobile reached out to let us know that it, too, will be carrying the LG G5. Pricing and other details will be revealed at a later date.
Are you planning to buy LG's newest flagship smartphone? To help you decide, check out our
LG G5 hands-on
(video included), our
LG G5 specs review
, and
all the new features that the G5 is introducing
.
sources:
Verizon
,
AT&T
,
Sprint