LG G5 announced, rocking a metal body and unique modular design
40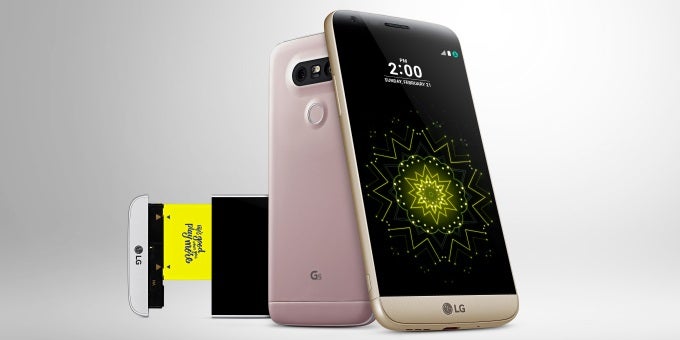 2015 wasn't kind to smartphone makers. Technologically, they peaked. They also got cheap. There are $150 handsets today that are just fine, given their price tag which would have been unthinkable a couple of years ago. Everyone in the developed markets has one and isn't remotely interested in upgrading for the next 24 months (at least).
So, what can you do if you aren't Samsung or Apple, but want to sell smartphones because you genuinely believe yours are better? Looking at the LG G5, the flagship smartphone that the Korean firm announced at MWC 2016, the answer to this question is "innovate". For everyone who wants to compete with the top dogs, the state of the market right now demands an all in, no holds barred strategy. Throw the old templates out of the window. Be radical and get cred for it.
Never one to be afraid by bold ideas, LG obliged. This is the LG G5 – a major step forward for the manufacturer's G series of Android battle cruisers, and the most unique high-profile smartphone right now.
Design
A streamlined, modern metal & glass design.
Redesigned from the ground up, the LG G5 waves plastic goodbye and ditches the signature rear volume controls for a streamlined, modern metal & glass design. The innovative 'modular' body is sturdier than the old plastic ones, but also clean and minimalist, boasting rounded edges, curved glass, and a flatter feel. However, the power button is still on the back. and incorporates the fingerprint sensor, while the volume controls are placed to the left side of the phone. By the way, the IR blaster is present as well. Also of note is that the LG G5 uses a clever micro-dizing technology to cover up the antenna slits and apply the various metal anodized colors in which the device is sold - Silver, Gray, Pink, and Gold.
LG G5 official pictures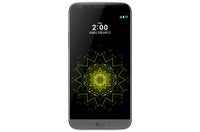 the modular design allows other accessories, which LG calls "LG G5 Friends", to be attached.
The world "modular" may have caught your eye, so let's elaborate. According to customer feedback, expandable storage and replaceable battery are two of customers' favorite Android features. The fact that Samsung may have caved in and brought the microSD card slot back with the GS7 and GS7 edge speaks for itself. So, in its bid to endow the LG G5 with a metal armor without losing customers to the lack of microSD slot and removable battery, LG engineered a slide-out bottom compartment that houses a 2800 mAh battery and a microSD slot alongside it.
Not just for quick battery swaps, this modular design allows other accessories, which LG calls "LG G5 Friends", to be attached to it. For example, a camera grip attachment provides camera controls and additional battery life, while an audio DAC attachment "friend" helps for a more immersive audio experience. Kick out the jams!
Display
Quad-HD resolution 5.3-inch screen with Always On features and improved daylight visibility.

For the third time in a row, the LG G5 features a Quad-HD resolution screen, but at 5.3 inches by diagonal, it is smaller than the LG G4 and G3's 5.5-inch displays. LG went with an IPS-LCD panel once again, and incorporated an interesting Always On feature. According to LG's data, smartphone users wake up their phones to check for missed events and notifications about 150 times a day.



The Always On display improves battery life and usability.
The Always-on display is designed to show you data such as the current time and date, missed calls, emails, messages, and notifications without having to wake up the phone, thus saving battery life and improving usability. The feature is supposed to consume just 0.8% of total battery life per hour. The interface seems to be borrowed straight out of the LG V10's
useful, and adorably excessive secondary 'ticker' display
, complete with the option of inputting your own "signature" that stays on top of everything.
In addition, the LG G5's display offers Daylight Mode for improved outdoor visibility. Automatically detecting light conditions and adjusting itself accordingly, the display can reach a maximum brightness of 850 nits – in other words, that's extremely bright and it will make using the G5 possible under intense lighting.

Interface and Functionality
Android 6.0.1 Marshmallow, topped off with LG's own streamlined UI.

The LG G5 runs Android 6.0.1 Marshmallow, topped off with LG's own UI, which uses the same colorful visuals we know from the G4 and G3's skins. However, LG has eliminated the apps drawer, opting for Apple's approach of placing everything on the home screen. Apparently, LG decided upon that in order to make apps easier to find, and to get rid of any confusion caused by uninstalling and removing apps.

Hardware
Powered by the Qualcomm Snapdragon 820, the LG G5 is ready for blazing speeds and immersive virtual reality.

Like most Android flagships announced at this year's MWC, the LG G5 is powered by Qualcomm's latest and greatest, the Snapdragon 820 SoC with four custom 64-bit CPU cores, Adreno 530 GPU, 4GB of LPDDR4 RAM, and 32GB of UFS storage. Compared to previous generation Snapdragon processors,the SD 820 benefits from Qualcomm's most advanced CPU architecture and offers double the speed and power savings. Likewise, the updated Adreno 530 graphics unit demonstrates up to 40 percent faster graphics performance and up to 40 percent more power efficiency compared to the previous generation.
The Snapdragon 820 offers double the speed and power savings over the previous generation.
Blazing speeds aside, LG takes advantage of the new chipset to handle the complexities of augmented and virtual reality applications and devices. Just like that, one of the LG G5's 'friends' is a VR headset that connects to the phone via its USB Type-C port. Additionally, the Snapdragon 820 supports Quick Charge 3.0 technology, improving charging speed by 27% and efficiency by 45%.
Moreover, audiophiles will be pleased to know that the LG G5 is equipped with an aptX HD codec that supports 24-bit sound over Bluetooth, delivering rich and clear sound over wireless connections.
Camera
A dual camera setup with the industry's widest viewing angle lets you capture more of the scene before you.
LG has built its reputation in smartphone cameras on the kind of technology that's built into the LG G5. There are two cameras on it, one 16MP and one 8MP in resolution. The 16MP cam has a standard 78-degree lens, and the 8MP cam has a 135-degree wide angle lens. It offers a viewing angle that's approximately 1.7 times wider than those of existing smartphone cameras, and 15 degrees wider than the human eye's field of view. This makes it easier for users to capture more of landscapes, taller buildings, and larger groups without having to position themselves further from the subjects.
The 135-degree lens offers a viewing angle 1.7 times wider than existing smartphone cameras.
Additionally, the LG G5 comes with a collection of attractive effects, such as Pop-out Picture, Film Effect and Auto Shot. Pop-out Picture combines images taken by the standard and wide angle lens to create a picture-in-a-frame effect. Film Effect can apply nine different film emulators to an image, while Auto Shot is an enhanced camera UX, which automatically captures a selfie shot when a face is recognized. The front camera is an 8-megapixel one.
Price and release date
Although LG hasn't confirmed that yet, nor its availability, we can all speculate it being sold at around the $650 to $700 range – with availability sometime soon. Indeed, we have no complaints about that price range, but we're far more curious about how consumer will feel about this radical smartphone. LG isn't just selling a phone here, but a whole bunch of toys that go along with it. The clever gadgets won't be everyone's cup of tea, but they do add a touch of "check out what my phone can do!" coolness that no other smartphone matches right now. We're genuinely interested if LG's forward-thinking approach will pay off in the months ahead.