Velocity Mobile – new WM brand
3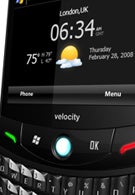 Today, Velocity Mobile announced its existence and the first two phones of the brand. For manufacturing its products, the company will collaborate with Inventec and will use chips based on Qualcomm and Samsung platforms. The brand is emphasizing not only on the high-end features, but also on a user-friendly sleek and attractive design. Only time will tell if its strategy will prove successful, or it will be a disappointment (as i-mate's attempts with the Ultimate line for example).
The two devices of the new manufacturer share most of the specifications of the Ultimate series mentioned above. They both are quad-band GSM smartphones, running on WM6.1 and based on Qualcomm MSM7100, with tri-band HSDPA (with version including 1700 MHz), featuring Bluetooth 2.0, WiFi, GPS, TV/VGA out, and a 2-megapixel camera.
Velocity 103
has the typical key-less form-factor and a VGA display, while
Velocity 111
has a BlackBerry-like design and a QVGA display.
We will give an advice to the new brand: the secret to success is in the unique and original names of the phones. Just using the company name and a strange number isn't the right thing to do.