Jabra Revo Wireless Review
1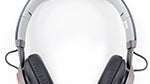 Introduction:
Versatility is a nice thing to find with many of today's Bluetooth headsets/headphones, but unfortunately, a lot of them tend to target to a specific category. Highly regarded as a key player in the Bluetooth industry, veteran maker Jabra just recently introduced a brand spanking new pair of stereo Bluetooth headphones during CES, but now we're on the heels of its expected availability. Packing an assortment of features that deepen its scope, like the convenience of having a wired and wireless connection, the
Jabra Revo Wireless
looks like the high-tech Bluetooth headphones version of the Swiss Army Knife.
Design:
Much like many of today's popular headphones, the Jabra Revo Wireless employs a very sleek, clean, and solid industrial design. Giving it a fair amount of strength and integrity, its aluminum skeleton chassis has the sturdiness to ensure us that this pair of headphones is solid with its construction – without being too weighty. In aiding to keep its fresh appearance, there's also a subtle rubbery coating throughout its
headband
, while the underside of it has a miniscule amount of cushioning to still feel comfortable when worn. Thankfully, we have no complaints with the feel of the
headphones
over our ears, since they're padded with this extremely soft fabric material. And at the same time, the Jabra Revo Wireless has enough flexibility to minimize fatigue on our ears over a prolonged amount of time. Oh yeah, did we mention too that the headphones can collapse for better portability?
Both
ear cups
are held up by a small bar, which enables them to adjust up and down for better comfort, but they don't move side-to-side. With the
left ear cup
, it's packing along an
NFC chip
that provides for quick and easy pairing. In fact, we simply tapped the back of our
Samsung Galaxy S III
and it automatically connected. It can't get any simpler than that, right? Showing off more of its versatility, the left ear cup also houses a 3.5mm headset jack, which enables us to use the included wired cables for a hard connection – as opposed to a wireless one.
Sporting some equally astounding tech, the
right ear cup
is also chock full of neat goodies that give the Revo Wireless a futuristic appeal to it. Specifically, the entire outer surface of the ear cup is touch sensitive, which is referred to as its "
turntable touch controls
" – so we can execute a variety of presses and gestures on it. Using a clockwise circular motion, we can increase its volume, while doing the opposite decreases it. Likewise, double tapping the left portion of the ear cup reverses the track, and of course, double tapping the right portion forwards the track. And finally, there's a physical button at the dead center of it all, which acts as the multi-function button to pause/play songs and accept/reject calls. Finally, there's microUSB port used to charge its internal battery and a switch to easily turn on/off the Jabra Revo Wireless.
Recommended Stories