Velodyne vFree Review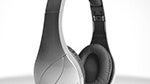 Introduction:
In our last experience with something from audio-centric company Velodyne, we were undeniably impressed by their
vPulse in-ear headphones
, as we deemed it as one of the best in its class. Relatively new in the headphones market, they're branching out yet again, but this time, it's in the wireless Bluetooth space. Intent on becoming a formidable figure, the
Velodyne vFree On-Ear Bluetooth Headphones
is the first step in their quest. As with all things, let's cross our fingers and hope they can pull it off.
Design:
Taking it out of the box for the first time, we're amazed in awe with its
peculiar design
, which has a tepid fashionable style to it, but upon grasping it with our hands, our once eager thoughts quickly subside into oblivion. Sure, the ear cups have a neat diamond shaped to them, however, the entire thing comes off as being cheap in build quality and construction – toyish in a way! For starters, the glossy black plastic body of our unit is simply a gold mine filled with nasty fingerprints and smudges, which makes it look like a greasy mess after a few minutes of using it. Indeed, we appreciate its lightweight and comfortable feel, which are attributed to its extra soft padding material around the headband and ear cups, but we can't steer clear from the fact that it's lacking the sturdiness of other comparable headphones – even more when we look at its exorbitant price point.
In keeping it portable for traveling, the Velodyne vFree
can be collapsed along its sides
, but the hinges seem so brittle to the point that we're scared about accidentally breaking them. Of course, seeing that it's plastic, the headband has enough flexibility to minimize any strain when worm over our ears for an extended amount of time. However, the ear cups themselves are narrow in size, which doesn't seem ample enough to accommodate those with larger sized ears.
Taking a look at the
left ear cup
, it features an LED notification light, microUSB port to charge its internal battery, and a 3.5mm headset jack for the convenience of using a wired connection. Meanwhile, the
right ear cup
is packing along separated volume controls that are slightly raised and have a springy response to them, and dual-microphones. On the outer surface of the ear cup, it's sporting a few physical buttons that are discretely hidden by its less than ornate pattern – these include a multi-function button that performs pause/play/accept/reject functions, a dedicated power button, and another that allows us to forward and reverse tracks.
Now, the biggest annoyance we have with them is simply trying to feel out all the
buttons
as we're wearing the Velodyne vFree, since they lack any distinction from one another. In fact, we find ourselves accidentally hitting the wrong ones, mainly because it's a little disorienting as we're trying to press the corresponding buttons while wearing the headphone. However, after a few days of using them, we're better able to guess their locations – though, it still would've been nice if each one had some kind of defining characteristic to separate them.
Recommended Stories