Updated: Lumia 950 XL demo units recalled from Microsoft stores due to hardware problem
47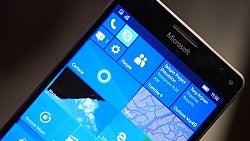 If you were hoping to test-drive the upcoming
Microsoft Lumia 950 XL
in one of Microsoft's retail stores, you're in bad luck as it looks like Microsoft is experiencing some hardware problems with its Lumia 950 XL prototype units. A new report from WinBeta, quoting sources from a couple of Microsoft stores, claims that the manufacturer has recalled all of the Lumia 950 XL demo units back to corporate headquarters.
Update:
a Microsoft spokesperson reached out to us to clarify the situation. The official statement says that the prototype units have been removed from stores as Microsoft finalizes the experience. Here's the statement in full:
Last week's Lumia 950 and Lumia 950 XL phones announcements generated huge interest. We made some prototype devices available for a limited time in our retail stores, so that customers could get an early look at our best Windows experience with Windows 10, on our most productive smartphones ever. We've now removed the prototypes from the stores as we finalize the experience, and look forward to rolling the phones out next month.
As Microsoft had to recall all of its Lumia 950 XL demo units, this leads us to believe that hardware might be the problem. Otherwise, if the problems Microsoft has been experiencing came from the software, then there would be no need to recall all units when a simple software update would suffice. At the moment, we don't have any information regarding what the problem may be. While some may hurry to suggest that yet another smartphone has fallen victim to the Snapdragon 810 overheating issues, it's way too early for such assumptions.
As many probably already know, the Microsoft Lumia 950 XL comes with a range of high-end specs, such as a 5.7-inch display with a resolution of 1440 by 2560 pixels, a Qualcomm Snapdragon 810 chipset paired with 3GB of RAM, 32GB of microSD-expandable storage, a 20MP primary camera, a 5MP secondary shooter on the front, as well as a sizeable 3340mAh battery.
Microsoft said that the Lumia 950 XL will launch in November and will be priced starting at $649. Hopefully, the hardware problem that Microsoft has identified in the demo units will not affect the phablet's commercial launch.