Android users might notice something different about Gmail today
10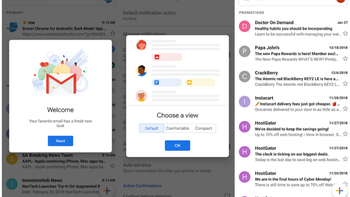 You might notice a change to the Gmail app on your Android device today, and feel the need to put on sunglasses while viewing it. That's because the app has been updated with Google's bright white Material Design. When you open Gmail this morning for the first time, you might see a box with the Gmail logo followed by a line that reads "Your favorite email has a fresh new look."
You also will be asked to select one of three options, Default, Comfortable, and Compact. Depending on the choice you make, you will see the same, less, or more email in your inbox at one time before having to scroll down. You can always change the setting by going into the app's general settings page. One thing that you won't find there is an option for Dark mode. Google has added this to many of the apps it has updated with its Material Design to prevent the bright white background from burning a hole in your retina.
Besides the brighter look for Gmail, you can now easily switch between accounts by tapping the icon found on the right side of the search bar on the top of the page. You also can manage your Google Account, or add another Gmail account from that menu.