Upcoming Windows Phone 7 Update still won't retain camera settings?
6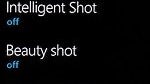 Obviously, there is a lot that Windows Phone 7 users have to look forward to with the
platform's first major software update
, but it seems that one annoying thing won't be addressed with it.
For those who have the opportunity of using the camera function with Windows Phone 7, they're probably annoyed by the fact that it doesn't retain its settings. Specifically, if you run the camera app and modify things like resolution or sharpness within the options menu, you'll notice that the settings will restore back to the default settings if you happen to exit out of the app. Naturally, it's more of an annoyance than anything else having to constantly changing it back when running the camera app again, but this annoying bug might not be addressed in the upcoming software update for the platform.
The team over at MobileTechWorld managed to get their hands on the latest unlocked emulator of the platform, which brings forth the new features coming with the expected big update, but they've discovered the annoying problem to still occur with the camera app. Unfortunately, there is still no word from Microsoft if they even planned on resolving this unique problem – which means that we're all going to live with this for some time. That's unless they managed to quickly address this one and sneak it into the upcoming update.
source:
MobileTechWorld
via
WP Central