Up close look at Google Jump platform for Cardboard and YouTube
2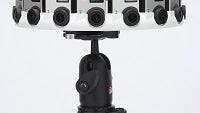 During the first day of Google I/O, a lot of people were congregating around the Cardboard exhibit. Why you might ask? All Cardboard is, is literally some nicely folded cardboard with some optics embedded with a rubber band to keep the smartphone in position while you look at content in what is basically a makeshift VR visor.
This year, Google handed out its new and improved Cardboard, a lot easier to assemble, taking only three steps instead of 12, and it supports bigger smartphones now (screens up to 6-inches).
To add even more intrigue to everything, Google also announced Jump. This is going to become an open source platform, but for now it is in final stages of development in collaboration with GoPro. Jump is designed to capture video with full fields of view using 16 GoPro cameras mounted on a Google-designed platform.
The "magic" is two-fold. Google's handy work is on the processing of video from the cameras so they are properly "stitched." GoPro's handy work is in the video recording and synchronization of the cameras. Once the final video is loaded in to YouTube, a user with Cardboard can load the video and take a VR experience through the video environment, 360 degrees in all directions.
We got to try some of initial videos on display through Cardboard and for such a simple set-up, the result is remarkable. If anything, this proves that virtual reality does not need to be an expensive endeavor for consumers of content (why pay $200 for Samsung Gear VR when you can buy Cardboard for $20 or build one yourself?). Cardboard supports iOS this year as well.
As for the GoPro cameras and the hardware, that part is quite a bit more high-end. That would also explain why Google is only making it available to "select" content producers initially before blowing the doors open on the project. What this will also ultimately introduce are new methods of video editing, because, how common is 360-degree video editing nowadays? Once Jump becomes more mainstream, this could bring forth a new dimension of DIY content so common on YouTube.
Jump, GoPro, YouTube, and Cardboard, a combination almost fitting of that old jingle, "one of these things is not like the other, one of these things is not the same…"
Cardboard is not the same as, nor as stylish as a sleek high-end VR rig, but it proves you do not need to be the prettiest in order to be really cool.