Unredacted docs show hiring collusion between tech giants Apple, Google, and Intel
6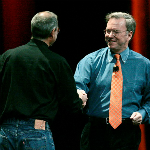 Last week, heavily redacted documents were released regarding an antitrust lawsuit that the US Department of Justice had brought and settled against Googe, Apple, Adobe, Intel and other companies back in 2010. Even in the heavily redacted documents, evidence was seen that the companies had been engaged in collusion. Essentially, the companies all had informal agreements to not hire or "poach" each others' employees.
Today, the unredacted version of those documents have come out, and they include some very interesting details of the events, which go all the way back to 2005. Intel CEO Paul Otellini said that he had a "handshake no recruit" agreement with Google's Eric Schmidt, and Intel had a written "no poach" agreement with Pixar.
One of the more interesting stories is that at one point, Steve Jobs found out about Google trying to hire an engineer, and e-mailed Eric Schmidt asking that Google "please stop doing this." Schmidt apparently forwarded on the e-mail looking for answers about what was happening and referenced a "policy of no recruitment from Apple". It turned out that a Google employee had contacted an Apple employee without consent and was fired for doing so.
Quite obviously there has been no such agreement between Google and Facebook, since the two companies have been trading employees quite a bit recently. It's interesting to hear about the self-implemented policies to avoid talent stealing, and even though the DoJ supposedly put an end to this, we certainly haven't heard of any of these companies hiring current employees, just a couple former employees here and there.