Ubuntu gets a Nexus 7 installer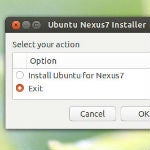 Earlier this week, we saw that Canonical was going to put more resources towards
optimizing Ubuntu for mobile
devices. The first developer device for this project is the Google Nexus 7, and as we move closer to the Ubuntu Developer Summit (UDS), there is not an installer so devs can easily load up Ubuntu 12.10 on their Nexus tablet.
The point of this project is designed specifically to optimize the base system of Ubuntu including CPU, memory, and power issues. Canonical will not be working on changes to the Ubuntu UI or Unity with 13.04, those changes are tentatively scheduled for 14.04 which is due in April 2014.
You can get in on the fun now, but there are likely to be more interesting things planned for the project announced at UDS on Monday.