Official Ubuntu demoed on a Nexus 7
19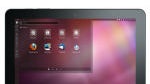 This isn't
Ubuntu for Android
, or a hacked together demo made by an enthusiast, this is real Ubuntu running on a Google Nexus 7 tablet and being shown off by an official Canonical engineer, and it could be a reality as soon as April, or at least the beginnings of it may be ready then. Canonical founder, Mark Shuttlesworth, has said that beginning with Ubuntu 13.04, which is due in April 2013, the team will be focusing on "mobile metrics" like battery life, memory consumption, etc., which will lead to the OS being able to run on a much wider range of devices.
The Unity UI is already a solid step towards being touchscreen friendly, so now it is just a matter of optimizing the OS for touchscreen devices. The start of that work looks to be right around the corner as Shuttlesworth told developers attending the Ubuntu Developer Summit (UDS) in Copenhagen Denmark next week to bring their Nexus 7s, because Google's tablet is apparently a great "reference" device for the project.
Additionally, Commercial Engineering Director at Canonical, Victor Palau, has posted a short video of Ubuntu running on a Nexus 7. As you can see below, things are already working pretty well, but while it is very nice to see a windowed environment complete with separate workspaces on a mobile device, there are definite tweaks that can be made to make the experience more streamlined for mobile. We're excited to see what happens, and we'll be watching the UDS starting next Monday to bring you more.