UPDATED:Android version of HTC Touch HD2 for T-Mobile U.K.
9

Just the other day, HTC CEO Peter Chou told Forbes that although a Android version of the HD2 could be made, the company wanted to "take care of Windows Mobile." So imagine our surprise when we caught a glimpse of a landing page that T-Mobile U.K. has put together for the HTC Touch HD2. The copy on the page reads, "Huge 3.8" touchscreen keeps everything at your fingertips, Choose from loads of applications to download from Android Market and 5 megapixel camera for great photos". The page shows that the handset will be launched November 9th. Even more strange is that when you click on a picture of the Windows Mobile version of the HD2 (the device we have been calling Leo) on the T-Mobile site, you are sent to the landing page with the Android version of the HD2. You can check it out yourself. Go to the source link and click on the "coming soon" link under the Windows Mobile version of the HD2 boasting about the 4.3 inch touchscreen.
This could be a simple matter of the left hand not knowing what the right hand is doing. Or, it could be something more. And for those Stateside, we recently reported that an Android version of the Windows Mobile equipped HD2 would be heading to Verizon as the HTC Passion. If this mystery Android Touch HD2 is indeed the HTC Passion, it would mean that the specs on the Android HD2 will be a little different from the Windows Mobile version. Right off the bat, it would appear as though the display would be 3.8 inches on the Passion instead of the 4.3 inches on "Leo". There are plenty of questions that T-Mobile and HTC need to answer and as soon as we find out the answers, we will let you know.
HTC HD2 Specifications
HTC Passion Preliminary Specifications
source:
T-Mobile U.K.
via
KnowYourMobile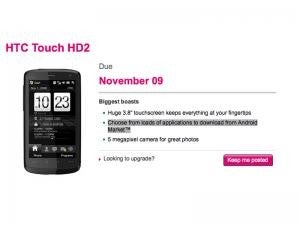 *UPDATE*
Apparently, as Engadget puts it, a bumbling marketeer is at fault for the confusion about the Android version of the HD2. There is only the Windows Mobile unit with the 4.3 inch touchscreen and the 1GHz Snapdragon chip. you know, the handset that was formerly known as "Leo". HTC will officially announce the model on November 4th and T-Mobile U.K. will have it up for sale on the 11th. Glad we could clear that up for you.
source:
EngadgetMobile