UPDATED: A trio of hot smartphones coming soon to AT&T?
3

AT&T customers will soon have three sizzling hot smartphones to choose from. If you're the type that finds it hard to decide between Frosted Flakes and Fruit Loops in the morning, you might need to consult your Magic 8 ball to make this decision. Thanks to BGR, we have some new info on pricing and release dates for the trio. First up is the AT&T Tilt2, which in reality is the carrier's version of the Touch Pro2. After a $50 MIR, the two year contract price is expected to be $299,99. That lies closer on the price scale to the $349.99 charged by T-Mobile and Sprint, than to the $199.99 price tag on the Verizon model. Off contract, the cost is $499.99. After fixing some bugs brought on by AT&T's inclusion of some software on the device, the Tilt2 is expected to be launched October 18th.
Behind door number 2 is...the AT&T Pure. If the name sound familiar, it is because Sony Ericsson will soon be
launching their Pureness
model and we just
reported
that a possible Microsoft handset has been codenamed "Pure". The Pure is the wireless operator's version of the HTC Touch Diamond2 and the 2 year contract price is expected to be
$199.99
$149.99 after MIR
. Considering that the price is effective until the end of October, we would say it is a pretty safe bet to expect the Pure to be launched sometime next month.
Last, but certainly not least, is the Garmin-Asus nuvifone G60. We have waited for what seems like an eternity from the time the phone was introduced to finally getting a Stateside carrier. The GPS centric device carries a price of $299.99 after a $100 MIR and your John Hancock on a two year contract. The launch date-again based on the price expiring at the end of October-should be sometime next month.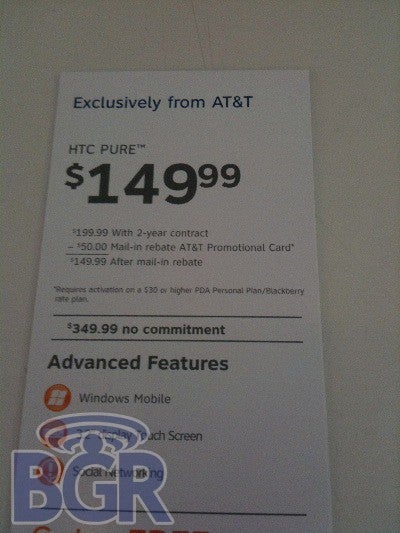 The AT&T Pure will cost $149.99 after MIR"
So there you have it, three smartphones coming in October for AT&T. Any cellphone fanatic worth his salt wouldn't mind getting his/her hands on anyone of the trio. So will you choose by carefully figuiring out the pros and cons of each unit or will it be rocks, paper. scissor?
AT&T Tilt2 Preliminary Specifications
|
HTC Touch Pro2 Review
(EU)
AT&T Touch Diamond2 Preliminary Specifications
|
HTC Touch Diamond2 Review
(EU)
Garmin-Asus nuvifone G60 Specifications
|
Hands-on
source:
BGR