Typo edits professional review video and posts it as a testimonial
15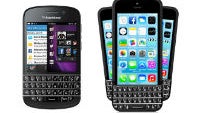 This is by far one of the most absurd and suspicious things we've seen in a while. If you aren't familiar with Typo, it is an accessory for the iPhone that adds a BlackBerry-style physical keyboard to your iPhone. The keyboard is a bit too BlackBerry-styled, because BlackBerry is suing to
stop sales
. And, in a move that hurts Typo's argument quite a bit, it has done some editing to whitewash the problems.
The story is that
CrackBerry
did a video review on the Typo keyboard accessory, and gave it a pretty good review... except for the parts where it was pointed out that the Typo looks almost exactly like a BlackBerry keyboard. You know, the keyboard for which BlackBerry holds patents on the design. Typo liked parts of the review, so in a mailer, it quoted the review and added a link. But, the link didn't point to the original video. Instead, the link pointed to a Typo's YouTube account, where it had edited out about two minutes worth of damning content to only leave the positive parts of the review.
We're all familiar with movie trailers taking review quotes out of context, but this is far beyond the realm of acceptable behavior. Not only is it a clear copyright violation, but it does pose some curious ethical questions when it comes to Typo's defense against BlackBerry's claims. BlackBerry has called the product "an obvious knockoff", and it seems hard to argue otherwise. But, this is the Internet, and hiding something that is so easily uncovered is just asking for trouble.
For your consideration, the original review:
And, Typo's edit of said review: