Two weeks with the iPad Pro made me fall in love
99+
This article may contain personal views and opinion from the author.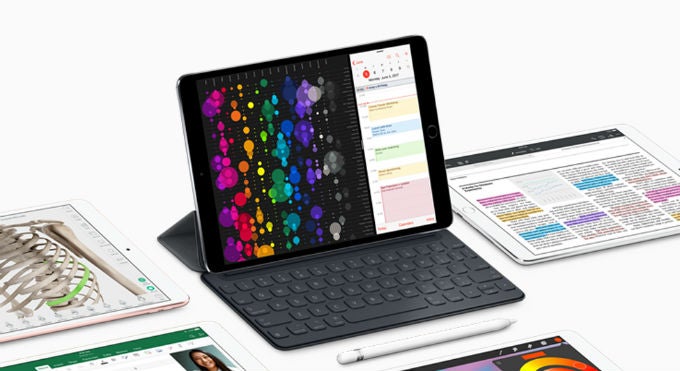 Those who have followed my experiments in tech should know by now that I skew towards the Google life. Stock Android phones (mostly Nexus with one foray into the Moto X) have been
my daily drivers
since the Nexus One came out, I've had a string of Nexus tablets, and I've been a big proponent of Chromebooks as the perfect "good enough" computers for most people.
At least that last part stood true until I used the new
iPad Pro
10.5 for the past two weeks. Now, I'm not so sure anymore.
I've attempted switching from Android to an iPhone a couple times (most recently in the
spring of 2016
) and it's
never worked out
for me. Even after my experience with the iPad Pro, I don't see that changing anytime soon, but tablets are a different beast than phones. Phones are more personal and what you need from the workflow on a phone is very different than what you do on a tablet, in my experience.
Even as a writer with relatively few needs, a tablet has mainly been a consumption device, but the iPad Pro is the first time I felt like a tablet could not only be that great consumption device for reading and video, but it could reasonably replace a traditional laptop or my Chromebook. On the other hand, a phone can be those things, but also must be a communication device first and foremost.
For example, a major issue I had with my attempt to switch to an iPhone was in regards to app investment. I simply can't have a phone that doesn't integrate Google Voice directly into the dialer, because it would be too annoying to split my contacts list into Google Voice people (aka international) and T-Mobile number people (aka domestic). So, Google's got me hooked on that. Additionally, while iOS apps are very expensive, the only app that I even considered I might need to buy on the iPad was Tweetbot 4, because I hate how the official Twitter app buries lists.
Otherwise, the main apps I needed were video (Netflix, Amazon Video), social (Facebook, Twitter), reading (Google Play Books, Kindle, Pocket, Flipboard, Feedly), and work (Outlook, Word, Slack, Box). And, with those apps, I had the opposite problem with the iPad that I had with the iPhone: two of the major apps I needed (Amazon Video and Word) were on the iPad and worked very well, but neither is available on the Chromebook Plus I have without sideloading.
While that normally wouldn't be an issue for me, sideloading on a Chromebook is not as easy as on an Android tablet at the moment, and the web versions of those apps don't do what I need. Word online is an awkward fit because of the way Microsoft handles 365 accounts. And, while Amazon Prime Video is available in a browser, you can't save offline videos without an app.
Obviously,
Android apps on Chromebooks
are still in beta and theoretically issues like this (at least with Microsoft Word) should be sorted out eventually, but beyond the apps themselves, the iPad touchscreen is far more responsive and pleasing to use; the iPad and keyboard cover are thinner and lighter than the competition; the speakers are loud; and, ultimately things just work better and smoother on the iPad.
As a daily driver, the iPhone can't replace my Android, but the iPad Pro could fairly easily be my primary computer for everything else. I was surprised how quickly I fell in love with the iPad Pro, actually. While I had the device for two weeks, I was smitten in less than one day.
The hardware is gorgeous, sleek and fast. The Smart Keyboard Cover is thin, light and very pleasant to type on. Using the iPad Pro with iOS 11 beta made it super seamless to multitask and do what I needed. And, while I've historically said Android/Chromebook tablet apps are "good enough" I have to admit that the iOS tablet ecosystem is flat out better (especially since I still can't even get Microsoft Office apps on my Samsung Chromebook Plus.)
The iPad was not a perfect experience. The idea of paying $10 for a Twitter client that may or may not be all that great, but is the only real alternative available isn't terribly exciting and I'd rather have the Tweetdeck web app on my Chromebook. The magnets on the Smart Cover are so strong that they make a lot of noise when attaching/detaching from the iPad, which got me in trouble by waking up my wife a couple times. And, of course, there's the question of price.
It cost $865 for the 32GB iPad Pro 10.5 plus Smart Keyboard Cover. The Samsung Chromebook Plus can be had for about $425 right now. It's hard to justify that cost over a Chromebook Plus, even with the beta Android app weirdness.
As much as I love the iPad Pro, I can't justify that price for a device that I can't share easily with my wife. The Chromebook Plus can be used by anyone in the house, but Apple still doesn't seem to understand that tablets are often used as communal devices in regular homes (Apple does allow multiple users on iPads in education markets). I'll miss using it after I return it to the Apple store, but it being more than twice as expensive as a Chromebook Plus is too much for me. But, if I really had to have one true computer, the iPad Pro would likely be the perfect device to span work, personal, and media consumption for me.
Surface Pro addendum
By far the most popular comment on this piece (aside from the usual Apple hate, which is unavoidable) has been people saying that I should get a Surface Pro, and while I have responded a bit in the comments, I wanted to have something here to make it easier for everyone to see.
As background, I haven't used a Surface Pro for extended time, but I have spent quite a lot of time with touchscreen Windows 10 on a Dell XPS 13. So, I feel confident in saying the Surface Pro would not work for what I want. Yes, I do want a hybrid tablet/PC experience, and the Surface Pro does offer that, but honestly the Surface Pro skews too far towards traditional laptop and offers a pretty bad tablet experience.
First of all, the Surface Pro is too heavy to be a comfortable tablet at around 1.7 pounds (~770g), depending on configuration. That's a huge difference from the iPad Pro 10.5 at just over 1 pound (463g). Add in the fact that tablet optimized apps on Windows aren't even as good as what you can get in the Android beta options on a Chromebook, let alone what iOS offers and that's a huge hit to the Surface Pro. The "freedom" of Windows doesn't much matter if the apps aren't there to give a good experience.
The other big issue is the price. The iPad Pro, as much as I loved the experience, was too expensive at $865. So, the suggestion to buy a device that doesn't fit my needs as well and costs at least $1000 for a good configuration makes almost no sense. If I were looking for a solid, ultraportable laptop, the Surface Pro would be a consideration. But, if you're looking for something that can be a great tablet and a good enough laptop, the iPad Pro makes far more sense.