Twitter's #FollowMe combines tweets, pictures and Vine into one highlight reel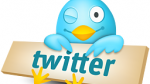 Twitter has come up with a way for you to decide quickly whether following someone is worthwhile.
#FollowMe
is like a highlight clip of a Twitter member's history with the app. It shows off a combination of tweets, pictures and Vine video in one brief clip that is powered by Vizify. The service uses HTML5 and is fairly automatic although there is some customization possible.
To start, you need to sign in to Vizify and authorize access to your Twitter account. Once the clip is made, you can change the music, tweets and Vine videos used in the package. Once you are satisfied, click on "Add to my Twitter bio" and you're all set. Whenever you want to create a new highlight reel, click on refresh.
If you want to see a #FollowMe clip in action, click on the sourcelink. There you will find clips from NBA Stars Kobe Bryant and Stephen Curry, who both have nothing better to do in June but to tweet and watch the Miami Heat and San Antonio Spurs duke it out for the NBA Crown. And for you non-sports types, there is a #FollowMe from Glee's Mercedes that you can view.
source:
Twitter
via
Engadget