Turn off Read Receipts on WhatsApp for Android
8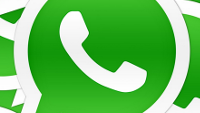 Earlier this month,
an update to the Android version of WhatsApp added Read Receipts
. This is the feature that shows you a double blue check mark next to your sent messages, which means that the recipient of your message has read it. Of course, with the messaging app's tit-for-tat way of thinking, adding the feature also means that those sending you messages will know if you read their missive.
Not every WhatsApp member was thrilled about the Read Receipts feature, so the messaging app's website is offering an update for Android users to version 2.11.444. After the update, you will be given an option to enable or disable Read Receipts. Keep in mind that if you do disable the feature, you won't be able to get the check marks for messages that you send (tit-for-tat, remember?). Also, you cannot disable the Read Receipts feature for group messages. Once everyone in the group has read a message you sent, the blue double check marks will appear regardless if you've disabled the feature for individual messages.
The update is only available for now from the WhatsApp website, which you can visit by clicking on the sourcelink. Eventually it might be available from the Google Play Store. Additionally, those running an Android phone powered by Lollipops are reporting that heads-up notifications have been added, following the installation of the update. Lastly, profile pictures are reportedly inside circles with Android 5.0. Previous Android versions used a square for profile pictures.
source:
WhatsApp
via
AndroidPolice