WhatsApp now shows you when your message has been read
21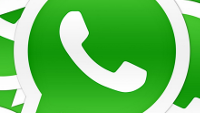 Earlier today, we passed along some interesting numbers from WhatsApp, as
the Facebook-owned messaging app celebrated its fifth birthday
. All of the statistics aside, a useful feature has been added to the messaging app, starting today. How many times have you sent a message to someone, wishing you could find out if and when it was read by the recipient? WhatsApp has made your wish come true.
If you see a pair of blue check marks next to your sent message, you can take comfort in knowing that your words have been read by the intended target. If you sent a group chat, or a broadcast message, you won't see the blue check marks until every single recipient has read your missive.
Every message you sent will have a Message Info screen. To access it, open up a chat with a contact or group. Long press on the message you sent, and click on info or the info logo (small case "i" inside a round circle). Tap on it and you will open the door to a wealth of information. If you see the word
Delivered
next to your message, it means that your "media" was sent to the recipient, but was not yet seen by him/her. You will see the words
Read
or
Seen
when the recipient has read your message, or viewed your video or picture. For a voice message, it means that the message has been seen by the recipient, but not played.
Played
means that your voice message has indeed been heard.
If you're the sensitive type, don't take it personally if your message doesn't have the two blue check marks indicating that it has been delivered and read by the intended target. It merely means that the recipient of your message has not read it yet and will do so later. It could also mean that your target does not have the latest version of WhatsApp installed on his phone. Or, it could mean that either you or the recipient (or both) are having connectivity issues.
If you need to know if messages you send are being read, you might enjoy the new capabilities on WhatsApp, which is available for the iOS, Android, Windows Phone and BlackBerry 10 platforms. And yes, Happy Fifth Birthday to WhatsApp.
Download WhatsApp (
Android
|
iOS
|
WindowsPhone
|
BlackBerry10
)
source:
WhatsApp
via
AndroidCentral