Tumblr announces "adult content" ban that starts in two weeks
13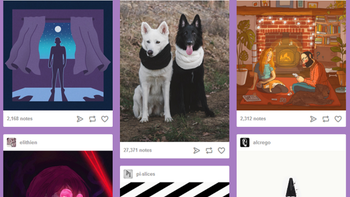 In case you're unclear as to what constitutes adult content, Tumblr's own blog post makes it pretty clear. These are photos, GIFs and videos that "show real-life human genitals or female-presenting nipples, and any content—including photos, videos, GIFs and illustrations—that depicts sex acts." With this description, you won't have to follow the famous comment from U.S. Supreme Court Justice Potter Stewart, who said in 1964 that he could not use words to describe porn, but "I know it when I see it."
There are exceptions to Tumblr's new rules. For example, images of female nipples are allowed in connection with posts dealing with breastfeeding, childbirth, after-birth, and other health related contexts. "Written content such as erotica, nudity related to political or newsworthy speech, and nudity found in art, such as sculptures and illustrations, are also stuff that can be freely posted on Tumblr."
If you are a Tumblr member with some posts that have been flagged, this adult content will be moved to a page that only you will be able to view. On the web, or version 12.2 and later of the Android app, a button found on any image labeled as adult content by Tumblr can be tapped to appeal the ruling. In addition, if a user has a blog that was flagged as being "explict" before December 17th, Tumblr will take appropriate action on the adult content, but will allow the user to post accepted content. Tumblr will return the avatars and headers for these blogs to the default settings. Users can look in their visibility settings to find out whether their blog has been labeled "explicit."