Trying to use your smartphone at the ballpark is like trying to hit an R.A. Dickey knuckler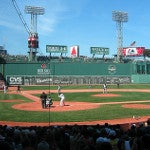 The baseball season is in full swing (pun intended, just drop some coins in the tip jar) which means that many of you have been visiting the local stadium to watch your favorite team. And of course, for most of us, that means
taking our smartphone or tablet to the game
. But the problem is that getting a decent network connection for data is as rare as a triple play. Recently, an experiment was done by some men and women attending a Detroit Tigers-Boston Red Sox game at Boston's venerable Fenway Park.
practically unusable at the ballpark
. With Big Red, many requests for downloads simply failed. In other words, the nation's largest mobile operator had struckout. AT&T was the only carrier that offered any kind of a connection from the first pitch of the game to the last out. But the data speeds were about as fast as Prince Fielder running the bases. In fact, AT&T's data speeds were about a third of what they were minutes before and after the game.
While those involved in the experiment had no reason for the slow connection, perhaps during the game
there is a lot of interference from television and radio broadcasts
, competition from thousands of other smartphone and tablet users. Could the Green Monster keep out radio signals? Whatever the reason, don't expect to be able to have a great connection to monitor those out of town games that are important to your team.
If you've been to the ballpark this year and used your mobile device, how was the connection? Let us know by dropping a comment in the box below.
source:
NBCSports