Trump uses an Android phone to insult Hillary, switches to iOS to cheer on the U.S. Olympic squad?
68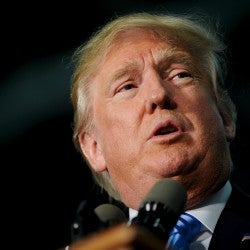 A report published today points out something very interesting about the tweets disseminated by Republican presidential nominee Donald J. Trump. When he posts a tweet that is insulting or bullying, it comes from an Android phone. When he sends out a tweet that is praising and positive, it comes from an iPhone. This was discovered by visual effects artist Todd Vaziri, who sent out a tweet discussing his analysis. We will get to his thoughts in a second.
Let's examine a couple of tweets sent out by the real estate developer. One, which was sent yesterday, said how he plans on attacking Democratic nominee Hillary Clinton for comments she made the other day. This was written on an Android phone using the Android Twitter app. Another tweet sent Friday wishing Good Luck to the U.S. Olympic team, was posted using an Apple iPhone.
Certainly there are some who will say that this proves that Trump has a split personality. But there is a less complex reason for this. Vaziri believes that the tweets containing acidic comments, insults and statements unbecoming someone holding the office of POTUS are indeed coming from Trump himself. The other tweets that come from an iPhone are possibly being tweeted by someone working on Trump's campaign team who is charged with smoothing out the candidate's statements. That certainly makes more sense than believing that Trump is schizophrenic and is jumping back and forth between two handsets.
Trump has been
complaining about Apple building its phones and other products overseas
. He has said that if he wins the presidency, he will force Apple to build its devices in the U.S. Earlier this year, Trump also said that
U.S. consumers should boycott Apple
after the company refused to unlock the
Apple iPhone 5c
belonging to deceased terrorist Syed Farook.
Trump stated back in February that he no longer uses his iPhone. Which means that Vaziri's analysis is probably right and that Trump's campaign employs a Twitter fixer on staff to smooth over the candidate's outrageous comments.
source:
@tvaziri
via
CNET