Trump says he might subject mobile phones from China, including the iPhone, to a 10% or 25% tariff
46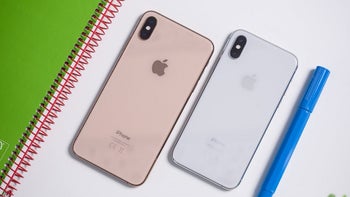 The Apple iPhone has managed thus far to avoid becoming a casualty of the U.S.-China trade war. But U.S. President Donald Trump
hinted today in a talk with the Wall Street Journal
, that Apple's most important product could soon be hit by tariffs. In his interview with the newspaper, Trump said that in addition to boosting the level of tariffs to 25% on $200 billion of Chinese imports, he would also add a 10% or 25% tariff on the remainder of Chinese imports (valued at $267 billion) that are currently not hit with the additional tax.
When asked if he would add tariffs to the Apple iPhone, other mobile phones and laptops assembled in China, the president said, "Maybe. Maybe. Depends on what the rate is. I mean, I can make it 10%, and people could stand that very easily."
Even though Apple designs its products in the U.S., devices like the iPhone and iPad are assembled in China by contract manufacturers. Units earmarked for the U.S. are then shipped from China to the states where they can be exposed to import tariffs. The president did have a recommendation for Apple and for other U.S. companies with devices being imported into the U.S. from China. "What I'd advise is for them to build factories in the United States and to make the product here," Trump said. "And they have a lot of other alternatives."
The president instigated the trade war with China in an attempt to lower the trade deficit that the U.S. has with the country. However, many economists believe that by tacking tariffs on many popular items imported into the U.S., like the iPhone, prices of these devices will rise resulting in a economic slowdown in the states. These economists see the same thing happening if companies like Apple move manufacturing into the U.S. The cost of labor would rise dramatically forcing these firms to raise prices to keep margins steady, or accept lower profits in order to keep prices steady. Neither would be considered helpful to the U.S. economy.