Tough it up - 10 of the best Samsung Galaxy S6 rugged and armor cases for ultimate protection
7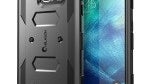 To many of you, encasing a phone as beautiful and slim as the Galaxy S6 inside a bulky case probably doesn't make sense. But those who are about to take Samsung's flagship to their hazardous, demanding job — one that maybe involves construction, laboratory duties, metal works, mechanics, animal care to name a few — will surely understand the benefits of rugged protection. Rugged cases usually have multiple layers of protection and cushioning to ensure no reasonable amount of impact can cause harm to your device. They also employ a combination of materials — usually hard plastic, PVC, TPU, silicone, and rubber — in different proportions.
On top of that, some rugged cases actually encase your smartphone completely, hence they are armored cases. They protect the screen with a door, of sorts, that provides minimal interaction with the phone without opening it. Additionally, some rugged cases have belt clips that double as kickstands. You can literally turn your smartphone into a part of your uniform this way.
If you own a Samsung Galaxy S6 and any of this sounds like something you're after, consider the following 10 rugged cases. Their makers go out of their way to build the most elaborate protection achievable at a particular price point. One can score a rugged case for as little as $10, but there are $40+ offerings as well, which provide the ultimate protection against demanding conditions.
Anyway, where durability is concerned, these cases are the best thing next to having
a Caterpillar phone
- and unlike the Galaxy S6, which is a phone created to give you all around joy, the Caterpillar is deliberately made to suffer in combat. These cases will bring you the best of both worlds!