Touchscreen use soars as 1 out of every 3 is an iPhone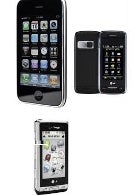 People love to tap on screens. From August 2008 to August 2009, touchscreen cellphone ownership rose a staggering 159% according to ComScore. In the U.S. alone, the number of cellphone owners with touchscreen devices went from 9.2 million people to 23.8 million during that same 1 year time period. Over those 12 months, smartphone usage also grew by 63% while U.S. smartphone ownership grew from 20.7 million to 33.7 million poeple.
What is the touchscreen of choice? No surprise. Apple's iconic iPhone accounts for 33% of touchscreen phones in use in the U.S.. Second and third place go to LG featurephones. With 8.7% of the total is the LG Dare while the Voyager comes in third with a 7.8% share. Rounding out the top 5 is the BlackBerry Storm with 7% and the Palm Treo with 6.5% And owning a touchscreen phone is a young person's game. While 51.4% of smartphone users are 35 or younger, 57.7% of touchscreen owners are under that age. 20.6% are between 18 and 24 and less than 5% are over 65.
Apple iPhone 3GS Specifications
|
Review
LG Dare Specifications
|
Review
LG Voyager Specifications
|
Review
RIM BlackBerry Storm2 Specifications
|
Review
Palm Treo Pro Specifications
|
Review
source:
CNET