TouchWiz teasers, Windows Phone 8.1 leaks, and the Cortex-A17 by ARM: Weekly news round-up
4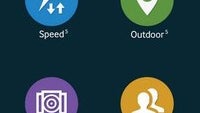 Those teasers and leaks just keep on coming. We had a whole bunch of them last week, including one coming from Samsung itself, revealing what the new TouchWiz UI might look like. Hint: it might be quite flat. Then LG posted a teaser on its Facebook page, pretty much confirming that it will announce an LG G2 "mini" at MWC 2014.
On the less official side of things, we saw another set of supposed HTC M8 (aka HTC One 2) photos and a leaked hands-on video showing what Windows Phone 8.1 might bring once it is release.
We brought you a number of official announcements as well, including the unveiling of the new Nokia Lumia Icon for Verizon and the new Cortex-A17 chips that will power the mid-range smartphones of the future. Do we have your attention already? Then read more by following the links below!