Another leaked HTC M8 image claims it's the real deal
64
The HTC M8 is the codename for the yet unannounced HTC One successor, but interest for the upcoming device is so large we are virtually drowning in a sea of leaked images and rumors. This new image is the latest drop in that sea, and it differs from some of the previous photos that
HTC itself shot down for being fabricated
. The difference is subtle, but there are a few elements that we think suggest that this time we might be looking at the real deal.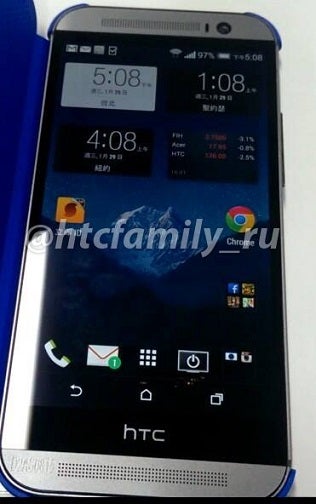 Notice the new element between the front speaker and camera
First of all, let us mention that this image comes from the @htcfamily_ru Russian Twitter account (
update:
Hungarian blog Mob.hr seems to have made it public even earlier) that has gained traction recently by publishing a lot of speculations and leaks for the HTC M8. Obviously, though, the image is not from Russia, nor Hungary. It has clearly been picked up from China, as you can see the abundance of Chinese characters on this latest leak. To be perfectly accurate, it seems that it has been picked up from Taiwan as those are the Traditional Chinese characters used in Taiwan (they differ from the simplified characters used in mainland China). And you know where HTC is from, right? Yep, Taiwan.
There is another detail, though, that makes us think this image may be very close to the real HTC M8. It is the detail right between the upper front speaker and the front camera. This looks like an LED light for notifications of sorts, but whatever it is, fact remains that it is something new, something that has not been on the original HTC One, and with its weird elongated shape we don't think we have seen this on any smartphone so far. Why is it important? Simple, it would take a very creative person to fake something like this. Of course, that is not impossible, but what's more interesting is that some earlier leaks have appeared showing the very same detail from a different angle, and obviously taken by another person.
All in all, the moral of the story is that while this image seems closer to the truth, it is still an unconfirmed leak that you should take with the usual grain of salt. With an expected late-March unveiling, we might learn very soon. In the meantime, feel free to chime in with your thoughts about this latest image, do you think it's real?