TouchFLO 3D 2.5 poses for screen shot
This article contains unofficial information.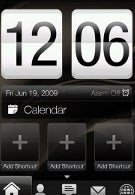 reported
on the HTC Firestone, a Windows Mobile model that could feature an 8MP camera. It looks now like the Firestone might also be dressed up with HTC's new TouchFLO 3D 2.5, code-named "Manilla". We would think that after showing off the Sense UI for the upcoming Android HTC Hero, we might see some of the newer features work their magic on Windows Mobile. The home page will have three application shortcuts and just about every screen and every function will have you interacting with the new TouchFLO 3D instead of Microsoft's balky OS, and that has got to be a good thing.
source:
BGR