Touch ID works better with time, here is what early AuthenTec fingerprint scanner looked like
9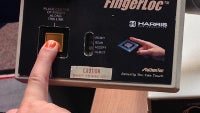 Touch ID
is one of the standout features of the iPhone 5s boosting its security in a simple and unobtrusive way, but the fingerprint scanner responsible for all that wasn't always that compact and accurate. F. Scott Moody, the co-founder of Authentec the company behind the fingerprint scanning technology of Touch ID, has revealed how the scanner originally looked like and how he pitched the technology to the big tech companies.
The fingerprint technology in the iPhone 5s is based on an 8 x 8 millimeter sensor located beneath the home key. Interestingly, the technology gets better and more accurate as you use it more.
"We're looking at pores, structures of ridges and valleys, and instantaneously tell who you are,"
Moody said.
"Every time you use it, it learns more about you. Because it knows, 'This is Alex,' every time you use it gets easier and easier."

However originally the fingerprint scanner was much larger and tethered to a large bulky computer. That's how Authentec pitched to tech executives at the big firms, trying to sell its technology and get resources to minimize it.
The first version of Authentec's sensor was actually called FingerLoc and only the box for it was much larger than the whole iPhone. This was the unit that went into demos and those did not always go smooth. Moore told the story about the product demo at IBM where the CTO tested the sensor and was incorrectly recognized as AuthenTec co-founder Dale Setlak.
"I joked that all CTO fingerprints look the same,"
Moody said.
"He didn't buy it."
Eventually, the company got the attention of no other than Apple and with a quick acquisition you can see the result in the iPhone 5s. The iPhone was actually not the first device with a fingerprint scanner in it, but where others failed the iPhone succeeds. AuthenTec takes pride in that and Moore explains:
"with other sensors, your ridges would collapse into the valleys. Ours doesn't."
Right below you can see the early prototypes. Feel free to share your experiences with Touch ID as a lot of you have now used it more.
source:
Apple Insider