Toshiba prepping to show an OLED display reference tablet at CES, possibly waterproof
1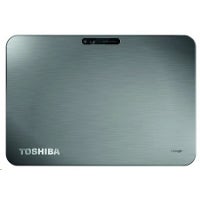 Apart from the
thinnest, lightest 10.1" tablet
(perhaps
a variation of the Toshiba Excite
), and
an affordable 7" one
, Toshiba is said to announce a waterproof slate prototype with OLED display, and wireless charging.
The waterproof claim comes from Toshiba's own announcement, which, however, has been translated by Google Translate, so we hope we are reading "
organic EL panel with high brightness thin tablet and display such reference can be powered wireless tablet waterproof
" correctly.
The "waterproof" part is mentioned once again in a Japanese newspaper article regarding Toshiba's announcements, so this adds some more water to the rumor mill, no pun intended. The article also mentions that the LED panel is very thin and bright, so let's see what will come out of this announcement come CES next week. Japan is certainly accustomed to thin waterproof phones, as almost all high-ends in the DoCoMo lineup, for example, are impervious to liquids, even the thinnest ones.
Toshiba is no stranger to the OLED technology, and has even shown
a flexible display prototype of its own
, but this area has been almost entirely engulfed by Samsung in the last two years, especially for mobile devices, so we are as curious as you what Tosh will unveil at CES. After all, the company managed to craft the thinnest and lightest 10-incher out there, so the engineering prowess is certainly there.