Toshiba readying the world's thinnest 10.1-inch tablet for CES
6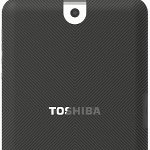 Toshiba is taking a bit of a risk here with the bold statement that they are getting ready to unveil the thinnest and the lightest 10.1-inch tablet at CES next week especially since their latest effort, the Android-powered Thrive wasn't exactly on the thin or light side.
As far as specs go there isn't anything to go along with this statement. Just the other day
a benchmark showed
a quad-core Toshiba tablet which could very well be the one that they are touting as the thinnest and lightest. The benchmark results were similar to what has been seen with the Asus Transformer Prime, which is the first quad-core tablet to hit the market.
If Toshiba can make good on this bold promise then they would have a real player in the tablet game if they deliver in the ways that they couldn't with their first tablets. There really isn't much else known at this time but with CES only days away any questions that you may have should be answered soon.
source:
Engadget