Toshiba follows trend and shows off a Windows 8 tablet hybrid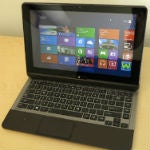 Not to be overshadowed at IFA by
almost every other manufacturer
that has a Windows 8 tablet/laptop hybrid to show off, Toshiba wants to get right on the
wave of Windows 8 hybrids
that are coming to the market soon. The question has become less of what manufacturer will have a Windows 8 tablet hybrid device, but rather what mechanism will be used to switch the tablet into a laptop and back.
This one from Toshiba, officially the Satellite U925t Tablet-Ultrabook Hybrid, is a slider convertible, meaning the keyboard slides down from behind the display to shift between tablet mode and laptop mode. The U925t comes in at around the same size that we've seen for other tablet hybrids at
3.2
lbs (1.45 kg), .78 inches thick (19.8 mm), and has a 12.5 inch display.
The device also has an "HD" front camera (likely around 1.3MP), a 3MP rear camera (because that's useful), and USB 3.0 ports (something we're legitimately excited about.)