Toshiba Excite Pure hands-on
4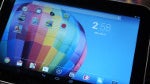 Introduction:
It's been a while since we last scoped out an Android running tablet from Toshiba's camp, but just like everyone else nowadays, it seems that they've gone the route of offering variety with its latest selection. More towards the lower end of the spectrum, the
Toshiba Excite Pure
is the company's entry-level full-sized tablet, as we're told it'll be sporting an enticing price point of
$300
when it goes on sale very soon.
Display:
Falling very in line to what we're accustomed to seeing, the Toshiba Excite Pure boasts a
10.1-inch 1280 x 800 display
, which seems to be the LCD variety from what we can gather. It's nothing special, obviously, but it's effective enough to use for a variety of things. Sure, we do notice just a smidgen of
distortion
at its widest viewing angles, but who honestly will notice that? Aside from that, everything else pretty much falls in line to what we expect to find – like its so-so brightness output and reserved color reproduction. It might lack the wow factor, but all things considered, especially its pricing, we can't be too judgmental over it.
Design:
Instead of starting fresh, Toshiba opts to deliver a
familiar design
with the Excite Pure. In fact, it's sporting the same plastic textured casing as the previous generation of Excite tablets. Naturally, we can't help but think about the tablet's low cost, which isn't compromised whatsoever when we look at its design quality and construction. It's not the skinniest, lightest, nor the most striking with its design, but heck, it could've gone a whole different direction – so yeah, we're quite thankful to see where it's at. However, it's worth noting that this particular unit that we're checking out is still a prototype. Overall, there isn't particularly anything to compelling here, seeing that it's rather conventional by today's standards.
Interface:
Looking at it, the Toshiba Excite Pure is running, well, a pure Android experience – to be specific, it's Android
4.2.1 Jelly Bean
. Again, this isn't a final product, so it remains to be seen whether or not we'll see some sort of new customization when it's officially on sale. Nevertheless, it's a stock Android experience that strategically plays to its name, so we're certain that people will appreciate that.
Under the hood, it's powered by
NVIDIA's Tegra 3 processor
coupled with 1GB of RAM – hardware that's hardly imposing, but nonetheless adequate enough to deliver a performance that's responsive. Once deemed as a cutting edge piece of silicone, it no longer has the same prestige as before, but then again, when you're an entry-level model, you don't need the most demanding hardware to run effectively smooth. Even though there's a camera in the rear, we're told there isn't going to be one with the final product.
Expectations:
Being an up and coming tablet, there's nothing wrong seeing this one tagged with a $300 price tag. Like what more can you as for when it has a decent construction and runs an untouched version of Android? Some of the critics might point to the Google Nexus 10 as the hallmark device in the product category, but when you're a newcomer trying to gain some traction in the space, it's comforting this one won't be draining your wallets.