Toshiba Encore Hands-on
13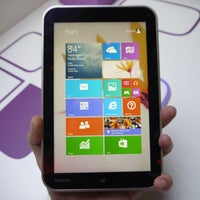 There is surely no shortage of Windows 8 tablets anymore. Many major tech companies have their own models already on the market. But when it comes to Windows 8 tablets with smaller screens, then there aren't many options one may choose from. Toshiba aims to fill that gap with the Encore – a low-cost Windows tablet that's compact enough to be held with a single hand. Or is it?
Well, kind of. Sure, the Toshiba Encore is easy to grip at first, but our wrist got tired rather quickly. The weight of the device is to blame in this case as the tablet tips the scales at 450 grams. With its thickness of 10.7 millimeters, the Encore doesn't look particularly sexy either. However, we must admit that it feels very well built. Its plastic shell doesn't collect fingerprints and the texture on the back adds extra grip. (Note: the retail version of the Toshiba Encore will have a textured back, not a flat one as seen on the pics below.)
The buttons on the side of the Toshiba Encore are well exposed and springy. On its top side we see the microUSB port, micro HDMI output, 3.5-millimeter headphone jack, and the pair of microphones for better audio during chats. A pair of speakers is located at the bottom. Thankfully, they are far from the bottom corners so one won't cover them with their palm while holding the device.
There isn't a lot to say about the screen on the Toshiba Encore. With its good color representation and average resolution of 800 by 1280 pixels, the display isn't anything out of this world, but it definitely gets the job done. Besides, we weren't expecting anything of higher quality given the low price point of the device anyway. The brightness output, however, seems a bit insufficient.
The Toshiba Encore will ship running Windows
8.1
,
bringing lots of major and minor improvements
. Also, Skype will come integrated into the system and the 11th release of Internet Explorer will be pre-loaded. And since this is full-blown Windows 8, you'll be able to load whatever legacy apps you may own – they should run just fine. Or at least they should work as long as the tablet has enough processing power to offer for them. The Toshiba Encore is powered by a last-generation Intel Atom processor, which draws little power, but won't deliver the performance you'd get out of a Core processor. But of course, the Atom, paired with 2GB of RAM, should suffice given the tablet's low cost. The demo unit we tested was a bit twitchy, but it ran smoothly when its software – an early build for sure – wasn't acting up.
While we couldn't test the camera on the Toshiba Encore, we're hoping that it's usable. It offers 8MP of resolution after all. A front-facing camera is present as well for self-portraits and video chats. The built-in 64GB of storage isn't what we'd call spacious, but it can be expanded using a microSD card. Battery life is listed as 7 hours on a single charge, which is about average.
So overall, the Toshiba Encore doesn't seem to be a groundbreaking product, but it is shaping up as a decent low-cost Windows 8 tablet. It will be priced at around $330 when it is released later in 2013, which is okay considering what you get in exchange. Expect the Encore to land on a shelf near you by November.