Top 5 Wear 2.0 designer smartwatches to expect in 2017
1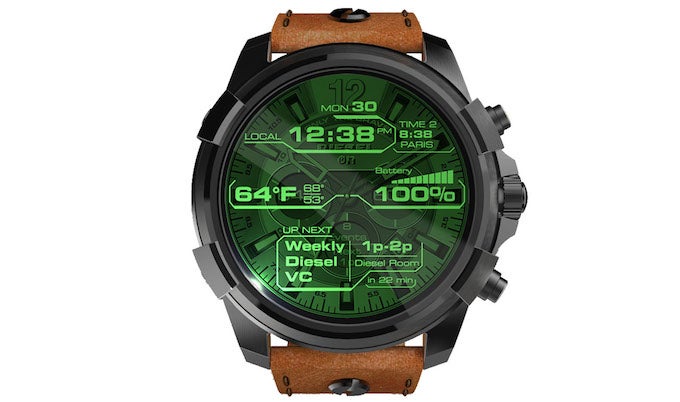 Last month was a big month. Not that it had 31 days, but because it saw some major gadget unveils that have stirred a lot of talk and spirits. Obviously, we are referring to Samsung Galaxy S8's official announcement, but also to the Baselworld event, which turned 100 this year and brought some fantastic smart timepieces.
A bunch of designer wear manufacturers showed off truly irresistible smartwatches that we should look forward to in 2017, giving us only a carrot stick of details. One theme was kind of central to some of them, though – Apple's high-end wrist clocks are getting some serious competition this year, as grand designer names are readily embracing Android Wear 2.0 for their new launches. Even though Google's attempt to roll out the Wear 2.0 to certain devices last month was fettered, we've recently had a statement from the company, saying that the software is starting its release to some makes of smartwatches this month. Meaning that it should be in stable shape for when most of the hottest designer smartwatches hit shelves in the months to come.
So, here are the sexiest five Wear 2.0 wrist bijous that will undoubtedly make you consider unbalancing your credit card. Premium design and style come at premium price, folks.


Movado Connect
$495
Movado is certainly not a novice in the field of watches, but the Movado Connect is a debut smartwatch for the company, which it unveiled at Baseworld. The Connect features a solid metallic body that comes in different hues for different style preferences. The glass face goes from edge to edge and gives the watch a very clean and sharp finish. Don't be fooled that the display fills the entire front, as there is a very definitive bezel around the pixel area that turns almost invisible at some angles. There is a single button to the side of it, at the 3 o'clock, which summons apps and pulls off the home screen.
The watch will sport up to 100 variations of watchfaces that will be already installed. The dial hosts the iconic for the brand dot, at the top of the screen, which changes colour as the day progresses from day to night. The smartwatch will run on Android Wear 2.0, meaning that users will be able to take advantage of a bunch of new features that the updated Wear will offer. The watch features in-built NFC to enable contactless Android Pay transactions. Movado has seemingly intended to depart from the fitness watch image, omitting water resistance, heart monitor and GPS. Nonetheless, the company has promised diversity in straps that will help you customize to the occasion and will match many tastes. The Movado Connect is expected to start shipments this August.
Tommy Hilfiger TH24/7You
$299
This name makes no sense at all, we know. However, the upcoming Tommy Hilfiger smartwatch looks more than promising, never mind the name, especially at this price. The TH24/7You is relieved of the computer-on-wrist profile that the Movado Connect seems to wade into, and bets on simple, but efficient build and style. The display shows a convenient count of your steps, battery level and a digital clock. The stainless steel engulfs almost the entire body, while the face reminds of a regular, borderline formal watch. There is a single control button on the side that doesn't stick out too much and looks like a regular watch screw.
The device works with Android Wear 2.0 but lacks the NFC, meaning that you won't be able to utilize Android Pay. Just like Movado Connect, TH24/7You misses on GPS and heart rate sensors. In terms of customization, things are kept simple, too, with only link and leather strap options. Even though it skips on certain features, the smartwatch goes for no non-sense approach that helps deliver value for money – something you don't always come across in the designer spectrum. It should hit shelves in August this year, looking set to challenge plastic build alternatives in the price segment.


Hugo Boss Touch
$399

At first sight, Hugo Boss Touch reminds of a regular wrist clock, typical for the brand, and radiates professionalism and class at every edge. Even though we don't have official measurements, sneak-peaks from Baselworld reveal a slightly bulky body, with an intended business-oriented finish – nothing too extraordinary, just nice and clean. A rather thick bezel, clearly defined lugs and the control button to the side, encircle the display. You can choose between different Hugo Boss watchfaces and pick from select colour options.

The Touch can make Android Pay payments, thanks to NFC inside, and will come with Android Wear 2.0. In terms of colour and strap variants, the smartwatch comes in black and silver, with link and leather bracelet options. Either way, the final design is nothing short of the confident prominence you would expect from a Hugo Boss timepiece. The price is kind of on the steeper side, considering that the TH24/7You will do a similar job for $100 less. Class costs money, you know.



Guess/Gc Connect
$300/$N/A
Guess is usually associated with fashionable and shiny smartwatches that stay afar from the sporty look. At Baselworld, the company announced Guess Connect and Gc Connect, offering its customers true tech bling-bling for their wrists. The watches look quite different from one another, and while we can't be 100% sure what's under the hood, they both seem to target the more casual, but luxurious segment of the market.
Guess Connect is more suitable for everyday use, even though it offers a crystal-emblazed bezels variant that we just can't imagine wearing, sorry. Nonetheless, there are crystal-free design options for both men and women, as well as a huge choice of bands. The watch doesn't look bulky and the bulging control crown doesn't look unnaturally big, as it often happens. In terms of typical smartwatch characteristics, Guess Connect certainly offers nothing spectacular. The device offers integration with iOS and Andriod, but falls short to deliver depth of app integration with either. No GPS, no heart rate monitor or NFC make this smartwatch desirable purchase for those who get caught in the fashion loop, where looks is king. Can't say that the Guess Connect is 'king' of anything really, but it certainly rocks a flashy image.
The Gc, on the other hand, offers a much sharper and to-the-point style and build. The watch comes in male and female variants, with a much larger pool of options for men, surprisingly. The overall style is more simplistic than Guess Connect, with rose gold options for the ladies, and ceramic bezels for the gents variant. The display, however, is the same as the one on the cheaper Connect, which is kind of a disappointment. The watch lacks NFC, heart monitor or water resistance. Even though it will be an interesting option for a fashionable Wear 2.0 device, it fails to provide anything impressive in terms of features.
We don't have any dates for a possible launch of either device. However, we do know that the Guess Connect will sell at $300. No confirmation has been made as to Gc's price, but, by the looks of it, it will be pricier than the Connect.


Diesel On
$325
Fossil unveiled a bunch of smartwatches at Baselworld, but the Diesel On is the one that certainly stood out. It also stands out in our current pick, as the watch actually brings new features to the Wear experience – something previous devices lacked on. A lot of detail about Diesel On is still kept in the kitchen, so keep an open mind about the full features package.
The watch will come in different 'hybrid' varieties that will all be based on the Mega Chief model. The overall build makes use of Diesel's typical industrial look, with a body that sports a chunky, rugged profile – obviously not intended as a lady watch, but it's yet unclear exactly what style options will be available. The device is powered by a Qualcomm Snapdragon Wear 2100 processor, and shows off a 'high-resolution' AMOLED display. The dial provides a good amount of widgets, such as temperature monitor and alternative time zone hours, and can be customized further.
The smartwatch incorporates some quite basic, but still newsworthy gimmick features, such as a fogging screen when you are inactive for longer, or a 'cracking' screen when you get notifications in do not disturb mode. Fossil has been quiet about detail on app integration, but has hinted that its efforts will be concentrated on personalized messaging. We don't have a release date, but the price has been confirmed and it seems more than attractive for what this big boy has to offer. Diesel On seems set to cause havoc beyond the designer smartwatches shelves, and be among the hottest Android Wear 2.0 devices this year.