Title of fastest GPU goes to Samsung's Hummingbird
22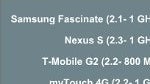 Thanks to GLBenchmark 2.0's OpenGL ES 2.0 test, we now know that the fastest mobile chipset, when it comes to graphics, belongs to the widely-used Samsung Hummingbird, which blew out the competition from many other devices featuring different processors.
The two devices that stood far ahead of the pack were the Samsung Fascinate with Android 2.1 and the newly released Samsung Nexus S which is the first phone to run Android 2.3 Gingerbread. Both devices use the same exact chipset, the 1GHz Hummingbird, featuring the PowerVR SGX540 GPU. The Fascinate registered a score of 21.5 in the tests, while the Nexus S wasn't too far behind at 20.9.
Other phones to throw down were the Apple iPhone 4 and 3GS (the iPad as well), the T-Mobile HTC G2, the HTC EVO 4G, the Motorola DROID, the HTC Nexus One and the Nokia N900 to name a few.
Using the older PowerVR SGX535 GPU, the Apple iPhone 3GS actually finished in a pretty respectable position. It should not come as a surprise that its result is considerably better than the one of the iPhone 4, since both pack the same GPU, but the 3GS has a lower resolution screen, enabling it to achieve a better framerate. The same trend is seen with the results of the iPad, which are even lower than those of the iPhone 4, because of the iPad's higher-resolution display. Keep in mind though that this benchmark measures exclusively the graphics performance of these handsets and should not be considered an all-around system performance measure.
Check out the picture down below to see the rest of the results from GLBenchmark 2.0. Tell us what you think in the comments below!
source:
Into Mobile