Titanium: a closer look at the new Apple Watch Series 5 material
7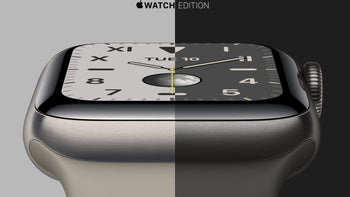 Titanium.
A word most recently famous because of the Sia song (hum along!), the "bullet-proof" material is actually a real chemical element discovered way back in 1791 and poetically named after the Titans race of gods from the Greek mythology. Despite its mythical status, it also appears in the far less mystical periodic table of elements with the symbol
Ti
and atomic number 22. It's also the newest exquisite material that Apple uses for a special "Edition" version of its
brand new Series 5 watch
.
At a starting price of $800, the titanium Apple Watch costs slightly more than the $600 stainless steel version, and it's actually double the price of the $400 aluminum watch. Clearly, higher price means higher value and some special abilities. So what are they? It's time to find out.
A quick Wikipedia look-up will tell you that it is "a lustrous transition metal with a silver color, low density, and high strength", plus it carries the benefits of being resistant to corrosion in sea water, and chlorine.
Or as Apple puts it in the marketing materials for the Series 5:
Titanium. Only found in the most exclusive watches, titanium is exceptionally strong, lightweight, and beautiful. For our natural titanium finish, we developed a special surface coating that prevents yellowing, staining, and showing fingerprints. Our Space Black is created with the same DLC process we use for stainless steel, yielding a truly gorgeous finish.
Hm, so we have two different Titanium finishes, one with the natural metallic white color, and an additional DLC coated version that has a very appealing "space black" tone.
A friendly YouTube video (seriously, it's better than a science book) also tells us that titanium has the best weight to strength ratio and that a plate made of titanium will weigh 50% less than a plate made of stainless steel.
The list of interesting facts continuous with a few more:
compared to steel, it's much harder to cut titanium with an angle grinder
the color of the sparks when cutting titanium are white, not yellow like with steel; particles when cutting it are much hotter and an increased fire hazard
because of the above, you should not cut titanium with an angle grinder. Hm, that Apple Watch sure sounds extra strong!
it has high ductility. Simply put, it means that when you shoot it with a bullet, it is extremely hard to pierce titanium, harder than stainless steel and much, much harder than aluminum
has very high corrosion resistance. It's oxidized in air of only over 100 degrees Celsius.
it's used extensively in aviation
it's used in medicine for prosthetics because of excellent biocompatibility
And that is a quick overview of the exciting properties of titanium, the new super light and super durable Apple Watch Edition.