Tim Cook remembers Steve Jobs on the sixth anniversary of his death
19
October 5th, 2011 was a sad day not just for technology fans, but for the world as a whole. That was the day when
Apple co-founder and former CEO Steve Jobs finally gave in to pancreatic cancer
. Jobs had been battling the disease for some time, but he was getting progressively weaker. Just weeks before, on August 24th, 2011,
Jobs resigned and named Tim Cook to replace him as CEO
. It was the second time that Jobs had picked Cook to replace him as Chief Executive. In January 2009, due to his illness,
Jobs took a leave of absence through the end of June
. Tim Cook took over for Steve, running the day to day operations of the company.
On Thursday, in remembrance of the sixth anniversary of Jobs' passing, Cook disseminated a tweet that read, "Remembering Steve today. Still with us, still inspiring us. 'Make something wonderful and put it out there.'"
Many observers say that Tim Cook has done a wonderful job following Jobs, and that with his expert knowledge of the supply chain, he came around at exactly the right time for Apple. Would Jobs have allowed Apple to sell larger screened iPhone models? Would he have given in and developed a phablet sized iPhone? Not only has Cook done an outstanding job, he has created a few new products under his watch, including the Apple Watch, the AirPods and the upcoming HomePods to name a few. He also has expanded the iPhone and iPad lines by adding new features and capabilities.
At the top of this story, you'll find the official tribute video that Apple released to mark the first anniversary of Jobs' passing. Released in 2012, it still will leave you misty-eyed with a lump in your throat years later.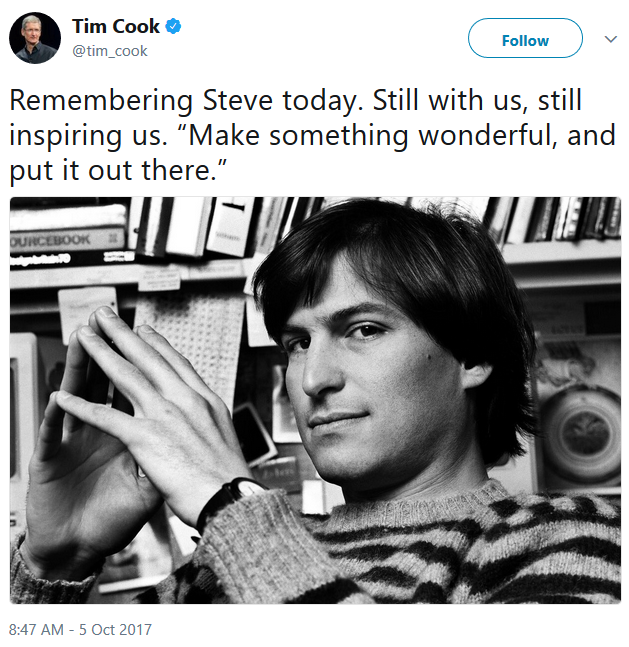 Tim Cook remembers Steve Jobs on the sixth anniversary of his death
source:
@tim_cook