Tim Cook: Surface Book doesn't succeed at being a tablet or a notebook
99+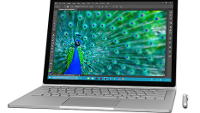 Apple CEO Tim Cook,
on the day that his company released the 12.9-inch Apple iPad Pro
, has gone on record with his comments about the rival Microsoft Surface Book. The latter is a hybrid tablet/notebook with a 13.5-inch screen. Cook, in Ireland for the Philosophical Society at Trinity College, said that the Surface Book is "
a product that tries too hard to do too much. It's trying to be a tablet and a notebook and it really succeeds at being neither. It's sort of deluded
."
This isn't the first time that Tim Cook has criticized a Surface device. Three years ago,
the Apple CEO called the Surface tablet "confusing and compromised."
On the other hand, Cook praised the iPad Pro, saying that with the large-screened tablet available, consumers no longer need PCs. Despite falling sales of the iPad, cannibalized by the iPhone Plus phablets, Cook says that he is bullish on the product and sees growth returning. Discussing the capabilities of the
Apple iPad Pro
, the CEO stated, "
I only travel now with an iPad Pro and and iPhone, that's it
."
The executive also told those attending, that mobile payment service Apple Pay will soon launch in Ireland. "
Your kids will not know what money is
," Cook said to those in attendance.
Thanks for the tip!
source:
Independent.ie