Ticketmaster will use audio data from your phone to admit you to events
2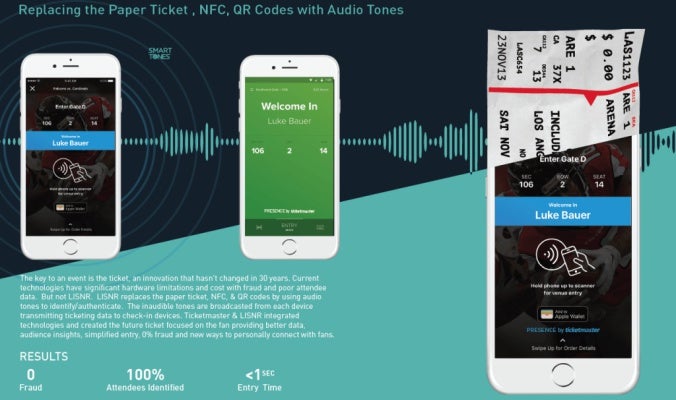 Ticketmaster is partnering with LISNR, a Cincinnati-baseddata-over-sound company, to bring sonic ticket verification to their venues.Instead of scanning a QR code or tapping an NFC tile, LISNR's technologyenables Ticketmaster customers to verify and gain entry to events by playing aunique sound called a "smart tone" directly from their phone. These sonic wavesare made in the 18.75 kHz and 19.2kHZ range – completely inaudible to more than90 percent of the human population. Within them, lies your unique ticketinformation which is given to you at the time of purchase. No radios areneeded, meaning Wi-Fi, Bluetooth, NFC, and others can all be turned off. Allthat's required is an Android or iOS device to emit the unique sound, and oneto receive it, adding security and also bringing down costs for venues.
The two companies hope this implementation can cut backsignificantly on lines and wait times.
LISNR's technology isn't uniquely made for creating sonictickets, and Ticketmaster isn't their first partner. In the past, the sounddata company has collaborated with automaker Jaguar and event marketing companySplash to develop applications which can replace key FOB's and create sonictickets, respectively. Ticketing with Splash saw verifications completed in aslittle as 0.6 seconds, with an average of 2 seconds overall.
Beyond attendee verification, bringing LISNR on-board opensa host of opportunities for Ticketmaster and its venues. This ultra-specificdata can be used to market certain vendors or communicate messages to people inspecific locations of the venue.
"We used identity as our North Star — our guiding light todevelop a product that makes each individual fan experience the greatest itcould be. This means using identity to drive customized experiences based onwho you are and where you are, eliminating fraud, resulting in a saferenvironment, and delivering more personalization based on the specific eventyou're attending."

-Justin Burleigh, EVP of product at Ticketmaster
As long as security remains high and cost stays low, LISNR'stechnology has the potential to create an entirely new standard for verificationand small-scale data transfer.
Check out some video on LISTNR's Splash sonic ticketing in action.
source: LISNR via Venturebeat