Three-minute trailer for Jobs film is released, includes interviews and movie clips
12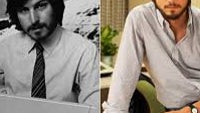 The
Jobs
movie is scheduled to be
released on August 16th
. Starring Ashton Kutcher as Steve Jobs and Josh Gad as Steve Wozniak, the biopic is expected to cover the early days of Apple including the company being taken public on NASDAQ, Jobs' removal as CEO, the John Sculley years and the subsequent and triumphant return of Jobs to the company he co-founded.
With the movie coming soon to a theater near you, Ashton Kutcher has started making the rounds including an appearance on the Jay Leno show last week. Meanwhile, a three-minute trailer for the movie has been released that includes comments from Kutcher and Gad. Both took their roles seriously enough to learn where the characters they each portrayed, stand in the history of the information age.
Even if you are not particularly a fan of Apple or Steve Jobs in particular, you still might find the movie interesting. Whether you hated or loved Steve Jobs, his life was still a fascinating journey that you might find interesting to learn more about.
source:
YouTube
via
TUAW