Three Stooges fan? BBM Stickers honor your heroes
2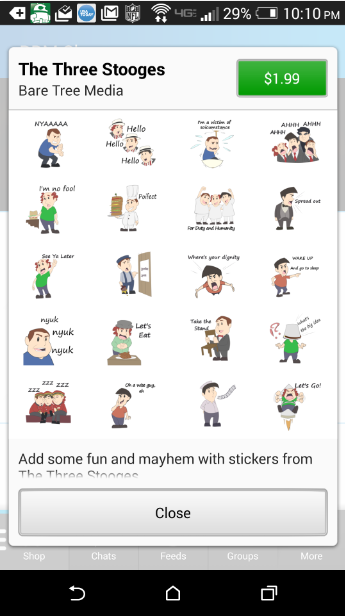 Three Stooges stickers are now available from the BBM Shop
Men love them, women hate them. Of course, we are talking about the Three Stooges. All of the original Stooges have since passed away, including Curly, Curly-Joe, Shemp and all of the others. But the Stooges live on in the movies, played by Will Sasso (Curly), Sean Hayes (Larry), and Chris Diamantopoulos (Moe). And the three "morons" also live on in the BBM Shop where BlackBerry has just started offering Three Stooges stickers.
Reasonably priced at $1.99, you can use the Three Stooges to emphasize a point you're trying to make. And according to BlackBerry, stickers are bolder and more beautiful than run of the mill emoticons. You can even use stickers right inside your chats.
With over 91 million users, BBM has been one of the bright spots inside BlackBerry. And the messaging app is open for iOS, Android and Windows Phone in addition to those sporting a BlackBerry device. The company added the stickers and the BBM shop as a way to monetize the app. With many sticker packs related to pop culture (Hunger Games, Frozen, SpongeBob, all things Disney), you can now add the movies' greatest slapstick team to the list.
source:
Crackberry