Three Motorola handsets hit the FCC: Moto X 'Kinzie', Moto G 2015, and a mystery DROID for Verizon
6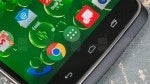 Three upcoming Motorola handsets have hit the FCC all of a sudden, and tucked amongst them seems to be the company's rumored
Moto X 2015
flagship, codenamed "Kinzie". It seems that July could very well be a Motorola month, given all the hints and rumors of an imminent unveiling for the much expected new gear.
These will be the first handsets developed after Moto was gobbled up by Lenovo, so we can't wait to see what the company has in store for us. The FCC filings are indicative of an eventual
Moto G 2015
version for Sprint, a DROID of sorts for Verizon, while the flagship model is one for all carriers, including Verizon.
Judging from the 153mm length and 75mm width of the flagship, it is shaping up to be with a 5.5-5.7" display diagonal, while the new Moto G's dimensions peg its screen to be a 5-incher, or slightly larger. The mysterious Verizon model comes 148mm tall and 75mm wide, which places its screen diagonal in-between the other two, depending on the bezel design. We already heard about
an upcoming "Clark" model for Verizon
, with a 5.2" display, and a Snapdragon 808 chipset, so that might be it, while the "Kinzie" flagship is said to be equipped with Snapdragon 810.